Sometimes we all crave for nothing more than just a good romance story with a good almost cliché free plot. With increasing readers and supporters of webtoon-manhwa the need for good plot increases. While searching for romance webtoons and manhwa to read most of us often get troubled with either lack of proper suggestions or due to the confusion about where to start the list from. More so, checking out every other title falling in our way is extremely tiresome.
Romance is a genre which usually does not go down well alone. It is essential to choose a webtoon/manhwa which contains a good amount of romance moment whilst keeping the plot full of new surprises. Luckily, nowadays a lot of artists thrive to cover the gray area in between two genres and provide us with soul touching stories. None the less it still is tough to pinpoint the stories which take you to a whirlwind of emotions yet keep you full stabilized as it progresses further.
25+ Top Manhwa (Korean Webtoons) That You Should Check Out (2019)
Top 20 Best Romance Webtoons
In order to save you from this difficult task at hand of finding a good romance webtoon. We present you with the top 20 romance webtoons – manhwa. With some of the fairly known titles for you to rewind back down the classic memory lane to some of the latest titles with massive fandoms; this list will introduce you to all. These are ranked backward, so while going through the list keep guessing what titles are going to score the Top 5 mark. (A bonus list awaits you at the end of the article)
[Status: Ongoing]
This is a romance-comedy webtoon that takes place in Victorian society. It is light webtoon with the adventurous couple going about their endeavors. With a creative storyline and unexpected twists, this webtoon never fails to make you laugh. Along with the abundance of comedy, there is no lack of chemistry between the lead characters. Breaking the social boundaries though, still keeping the morals in check this webtoon has a lot to offer. The art style is cute and neat with details often left in the plane eye surface. Leading a beautiful and healthy this webtoon never fails to provide you with relationship-goals.
[Status: Completed]
No doubt this webtoon will sometimes make you question your sanity and honestly, that is one of the strongest reasons why you should read this webtoon. This falls in romance-drama genre with a gush of comedy and supernatural. This might seem pretty intense when evaluating the genres but will never disappoint you. The constant desperation of Holy Joo for Jaime Oh is irresistible. This kick starts with Holy, an overachieving-extrovert transfer student taking interest in Jaime Oh, a forever introvert boy whose only friend is a ghost. Then there is no turning back as you go down the adventurous ride of these two battling off their problems together. Portraying a strong female character with good comedy moments sprinkled throughout the course this is a go-to choice for satisfying a peculiar romance craving.
[Status (English Version): Ongoing]
So before anyone from the big fat CITT fandom kills me for putting it on this number I would like to make the reasons clear. Cheese in the Trap is one of the top titles which falls under 'romance' but the drama in the webtoon is extremely intense and often the romance part feels like just a small pinch of icing (Well! If you do not have a sweet tooth then kindly excuse me). I myself am a huge fan of this webtoon though it takes you down the dark road of psychology and suspense.
It is still necessary to put this up because you will never want to skip this masterpiece. The relationship of Seol with everyone and herself is shown in an extremely descriptive manner. Moreover, Jung is a character with multiple layering and reading the manhwa as the layers peel of and starts making sense is a great experience. The storyline and foreshadowing are par with the usual level of expertise. When you want to dwell onto a binge-worthy title with some beautifully romantic moments and still want to feel the rush of adrenaline while wanting to find out about the further plot; you know which turn to take.
[Status: Completed]
Next on the list of top romance webtoons is a fantasy-romance webtoon with lots of cute moments. The art style is beautiful and light colored. Emma and Ryan are 'THE' made for each other couple. The friendships and the intersecting relationships of other characters are mesmerizing. Throughout the webtoon, you will keep laughing at the humor and adorable naivety of Emma. This is one of the most wholesome romance manhwa one can reach out to. The simplicity helps the plot from getting caught up in the usual clichés of romance genres.
[Status: Ongoing]
From the author of this webtoon you can expect everything; from sarcasm to humor to jaw droopingly beautiful art and an intricate story. This webtoon revolves around Zylith an aspiring writer who leaves her home and settles into an apartment with some shady background of having a ghost residing in. There the story takes off to writing filled with humor, romance and everything but predictable plot. Providing cliff hangers at all the right moments this webtoon will surely make you fall in love with itself.
[Status: Ongoing]
You can find this romance webtoon under the discover section of Line Webtoon app. This story does proper justice to the genre;romance webtoons. Kyongmi and Sora are two friends who have been together since forever and as they grow through their weaknesses, witness their story. It has a proper romance setting with two pairs of best friends bumping into each other. Fear not for this won't disappoint you at any point. Colliding versatile personalities the creators do a great job in putting the whole story down. Lots of sweetness, blushes, emotions, AND cats await you there.
[Status: Completed]
A beautiful story about a girl who can see ghosts and a ghost boy who lived his ghost years alone in the house he died. The ending is not entirely happy but all the more right and fulfilling. With a minimalistic art style, this manhwa has won many hearts. Even though throughout the story the characters cannot have any physical contact because of the obvious reason that the male character is a 'ghost' not once do you feel that the webtoon is only focusing on one aspect. Both characters help each other transform into a better person. A totally binge-worthy title which falls in the romance webtoons category.
[Status: Completed]
With a k-drama made up for this story, you can't afford to miss this manhwa. Dealing with a vampire-human relationship this webtoon is filled with feels and a dash of traditional 'vampire' context of love. The character arcs are wonderfully portrayed. This series is a must when comes to top romance webtoons or manhwa.
[Status: Completed]
Another vampire-human relationship focused on manhwa. This title has also won many hearts. The touch of modernization in the vampire-fantasy provides this story with a covered edge as it does not walk the path usually vampire stories do. More so the art style is gorgeous. With a full circle getting completed this webtoon fulfills the plot requirements to the best of its needs.
[Status: Ongoing]
When this story takes off you see rainbows and driving into the sunset type of a setting though it does not take long for a person to realize that it is not all the story has to offer. Soon the whole plot turns deep as more characters and theories are added to the plot. With a great love triangle forming as a result causing fandom to break into two massive ships, this webtoon is progressing further. This fantasy-romance webtoon essentially focuses on Lyra the lead character as she gets tangled in the unknown mysteries of the blue sea but probably all the mysteries have something in common with her. Enough suspense built up! Find out the details by giving this webtoon a chance. Fact: Sirens and mermaids are different.
[Status: Ongoing]
I Love Yoo scored a hit with its new curve towards high school romance and story. The art is by far marvelous and keeps getting better. As the story takes a drift you get into so many ships that the end game is impossible to spot out. Drama in this series matches the romance type and the way Shin Ae Yoo faces the negatives portrays the strong female character. From friendship to relationships with parents and siblings; all the aspects are carefully woven by the creator. Background detailing and foreshadowing are at the master level. The story is in its second arc by far and promises a wonderful plot ahead and gorgeous characters. Tip: Keep your theory formulating gadgets handy.
[Status: Ongoing]
In case you want to read about something which can fill in all the voids of romance-humor-fiction. Yes! This is the option you have. As the female lead witnesses a disturbing image one night she is encountered by THE ghost. The relationship of Damon and Liz is pure to the core as Damon learns how to socialize and Liz gets comfortable to her now a totally different lifestyle. This webtoon is still in the question building stage. For a new wind of art and story, this webtoon is a top title for our list discussing romance webtoons.
[Status: Completed]
Now here comes a title which is absolutely nothing like the ordinary. As I started this manhwa I honestly thought that the story was a bit haywire and the strings did not properly connect yet as you reach the first 10 chapters everything starts making connections. This manhwa won my heart with Jin the awesome male lead and Hana the clumsy but all the more strong and relatable character. It is a light-hearted small manhwa with feels that stay with you for life. Worth a binge or two (Guilty).
[Status: Ongoing]
Sam is an introvert-nerdy girl whose one of the only major dream is making a game. Though, her dreams crash before taking a flight as one of the greatest gaming reviewers trash down her game. The story is totally new. Achieving many critical acclaims the author did a great job making this webtoon up. All the characters from Sam's overprotective dad to her boss display a unique personality with no lack of humor and plot twist. a noteworthy piece when discussing the pile of romance webtoons. Currently, the first season is done and the author is about to be back with season 2 of this awesome webtoon.
[Status: Completed]
This manhwa really helps one look at relationships from a whole different perspective. The chapter portrayal is also unique as in each chapter the two leads i.e. Doo-hee Won and Hae-Gyung Kim have dinner together as they share relationship stories. This small romance manhwa starts with both characters having dinner alone and then deciding to eat together. Throughout the manhwa, there is a happy vibe lingering. The friendship between the two grows as they have more meals together and heal from their past heartbreaks.
[Status: Ongoing]
Rose is a girl reaching her 30s within months and the starting of her 30s is definitely not going according to the plan as her long-time boyfriend dumps her. Along with the emotional setback, financial insecurities creep down her life and in a turn of events she ends up getting employed as the assistant of the CEO of a top chatting service who is the youngest to have achieved such heights in business. The story progresses with both characters dealing with their issues and subsequently helping each other out as the question is still under the surface, does age matters?
Apparently, the female lead is not in a love triangle but rather in love pentagon or something. Consequently, you lose count when everyone is swayed with a strong-open personality. The fact I love the most is that the business endeavors are ACTUALLY given proper light opposite to how usually it is shown in most of the webtoons with a billionaire and girl falling for each other. The webtoon's base though seems a bit familiar yet the progress and setting differ with this belief.
[Status: Completed]
A little cliché, a bit of warmth, a small number of feels, a thoughtful story and an EPIC romantic manhwa. I tried to describe this in as little words as possible because you can never describe something as astonishing as this manhwa. The pace is very stable as the relationship grows further. This provides a good amount of fun and seriousness to properly sustain a relationship as precious as theirs. Therefore, a must read when it comes to the 'romance' genre.
[Status: Ongoing]
Edith is a romance-drama webtoon which is still very new and needs to go through thorough progress. However, until now it has managed to totally fancy the romance lovers. Edith is the lead character and she deals with insecurity and anxiety. It is up to her to decide whether to go with someone who seems like an addictive drug or root for her forever crush who has a girlfriend. This webtoon sheds light on the aspects of depression and other mental health issues whilst beautifully portraying the story of Edith. The art style is new and descriptive totally in sync with the plot.
[Status: Ongoing]
Tis' but a sensation. Yes! True beauty is definitely not any webtoon but rather a whole sensation out there in the webtoon world. With art style so good that you have to go through the same panels again to take in the breathtaking beauty. The story in majority deals with three leads, Jugyeong Lim a girl with below average looks, therefore, taking refugee under the makeup which is a unique feature to this story, Suho Lee, a top student plus awesome looks who does not care much about girls and Seojun Han who same as Suho have idol looks. All three go to the same high school and the plot intensify further. This does not end here as the webtoon further provides you with hysterical facial expressions that par the level of comedy element in the story.
[Status: Ongoing]
The top placed webtoon in 'romance' section is Lore Olympus. If you have to ask why then you got to read it. It is basically a redo of Greek mythologies as the author perceives them. The plot is properly interacted and scattered to make a good story and provides you with a LOT of romantic moments. Persephone and Hades are totally head over heels for each other though where is the drama when there are no troubles? The art style is totally unique with full colors portraying different characters as a whole. You open it for feeding your curiosity and stay for everything it has to offer.
Bonus Romance Webtoons List
In addition to the above list here are a few webtoons that fall under romance genre and are a great option to keep you busy after you complete the above list.
01. My Dear Cold Blooded King
Deals with a bit more than just 'romance' on the foreground. Great art and content. The depiction of romantic scenes is quite versatile. With a love quadrant forming at its peak, this webtoon gives you all the traditional vibes with a touch of feminism.
02. Midnight Poppy Land
Yet to be featured on the webtoon though you can check out the discover version. The first few chapters are only inked however later there are colors. It is a great romance webtoon with a touch of suspense. I adore the art style and character portrayal. I believe in future it will make up to the top romance webtoons.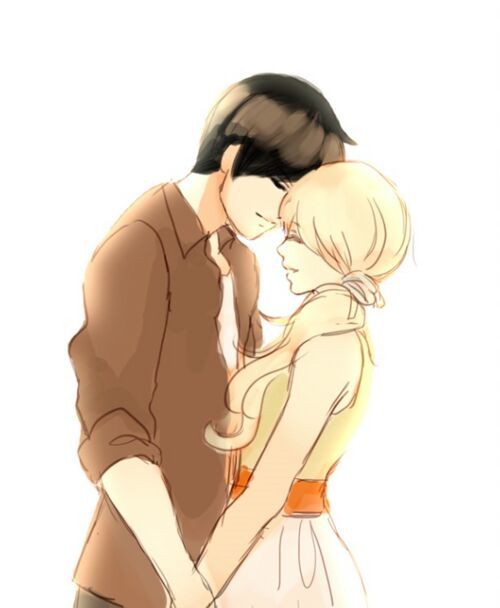 03. Where Tangents Me
A pure romance story by the same author who currently works on Siren's lament. This is also one of the most loved titles under the romance genre.
04. Pasutri Gaje
Originally in the Bahasa Indonesia language, this webtoon feels like watching a sit-com. With a beautiful married couple forwarding in their lives and dealing with all the changes marriage cause in one's lifestyle this webtoon nowhere lacks in romance. It also has a prequel series named My Pre-Wedding which showcases the previous ordeals of the couple. You can find this warm-hearted webtoon in the fan translation section of Line Webtoon.
05. Luff
This webtoon is set up in not too far future where people after getting tired of failing relationships now use the ultimate app LUFF. This app uses fingerprints in order to match you with 'the one'. With luff conglomerate taking up all over the aspects of people's life here comes the lead Bea gets her fate tangled. Whilst playing with your feelings this webtoon provide you with a strong female lead and a love triangle that is yet to come in its full wake. With the titles setup as 'Friends' sit-com's episode names, this story takes introduce to a new future possibility.
Thus, you have the list of top 20 romance manhwa – webtoons in your hands. The choices were very tough though we ranked them up by keeping the base genre in mind which is 'romance'. This is a small list of webtoons – manhwa which are worth checking out. While there is definitely no doubt that everyone has their own choices so do not forget to mention your favorites down in the comments.
One of my definite favorite topics and genres among all anime is horror. Ever since I started watching anime I have been researching horror anime and watching them as much as I could. There is something in the horror that really attracts me towards watching it, and I believe there is something that attracts you as well. Otherwise, you would…
Love our posts? Do follow and like us: