Zombies have clearly been a part of Hollywood culture or movie culture in general but now it has landed on the anime streets and as a result, I think it can cover a dynamic range of genres. All the way from horror to slice of life and since its fairly new, a lot of new ideas can hence come from this genre. If you need to refresh your senses with a flesh-devouring demonic type Anime, step right in and here's our top 15 picks for the best Anime with Zombies to binge.
Top 50+ Best Horror Anime Of All Time
15 Top Zombie Anime
16. Zom 100: Bucket List of the Dead
Would you rather be a wage slave working a dead-end job or be in a Zombie Apocalypse? For the series MC the answer is simple he would rather be in a Zombie Apocalypse so he can finally do all the things he wanted to do and not be stuck at a dead-end job. The world and everything around the MC might be dying but he is having the time of his life and enjoying his new found freedom.
The ghoul overdose with flesh-eating action is through the roofs on this one. Tokyo Ghoul isn't a new player in the anime scene, in fact, it is without a doubt one of the most recommended anime. However, I think it still qualifies as a zombie anime. If you put it in perspective, these guys are soul-less monsters. The only difference is, they have emotions… A lot of emotions. So if you're in the mood for some Emo/Goth action Anime with some heavy ghoul action, you should definitely check out Tokyo ghoul. I guarantee that this anime won't let you down in terms of the storyline if you can handle the edgy-ness.
Anime and Nekos. Do I have to say more? This is as kawaii as any anime with zombies can or will ever get. This is pure bliss to watch. It's a story about a cat who is resurrected from its grave and wanders around the town. Despite its new zombie genes, it makes all the townsfolk adore it. I mean come on just look at it. 10 out of 10 for cutest anime with zombies.
This is plain crazy, horrifying and weird at the same time. Gyo: Tokyo Fish Attack is an anime movie in which fish roam the streets of Tokyo after being fused with metal legs and a virus which can make humans explode from gas. Yes, every line from that sentence is true. If you missed your daily dose of methamphetamine, come get some. However, due to its pure horror background and zombie-like traits, it had to be on a list of anime with zombies.
Ahhhh. Slice of life mixed with zombies and high school and should I have to say anything else! Nobody can even fathom being killed by a serial killer and being brought back to life by a necromancer only to go back to high school. Well, if you're in the mood for some light-hearted Zombie comedy, this my friend is where you should stop. Seriously, this stuff could be the zombie land of Anime.
Guns, Swords, Magic, and Zombies. Zombie Loan quite literally has everything an action fan can ask for. It follows a story about a young girl who discovers that two of her classmates are definitely dead and bound by a "zombie loan" and have to kill other zombies to stay alive. Remember how any given anime has those built high school kids, yeah this is one of them. One can say this is a pure zombie on zombie action! Zombie Loan won't let you down in terms of action at all.
Attack on Titans not doing it for you? Do you want goth titans with glowing eyes? Then you have come to the right spot. Kabaneri of the Iron Fortress is about zombie-like massive monsters destroying cities. Anyone who likes zombies/thrillers should definitely check this out! Definitely one of the coolest anime with zombies in it.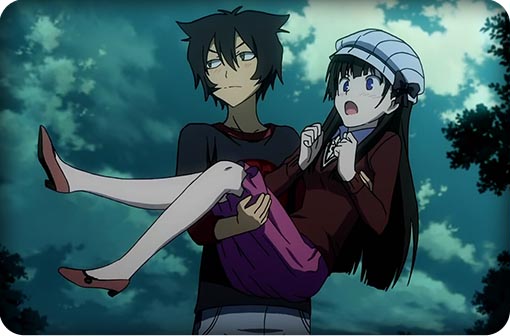 Chihiro, the protagonist of this story, has always wanted a zombie girlfriend. While most of us can't find a human one, Chihiro ends up with just what he wanted. But as time passes he has to face his now "dead" girlfriends changes. The entire plot revolves around their quirky moments and some serious ones as well. Anyone who wants a comic relief from the normal slice of life anime should check this one out. "Till death do us part" doesn't really work on this one.
It is the 19th century and scientists have found a way to reanimate corpses to turn them into slaves of labor. Just mindless corpses doing low-class jobs, what could go wrong? At least low wage won't be a problem. This movie features characters like Dr. Watson and Dr. Frankenstein and features a very classy atmosphere.
Our crazy Demon hunting Vampire had to be on this list. Alucard will slaughter anything that comes his way, be it, zombies, vampires even Nazis. Do you know how they say that Hitler's real body was never found? Yeah, you might get a few ideas on how it could've gone. Any viewer who is in the mood for some serious badass action with an amazing storyline should watch this. While not being entirely an anime with zombies, seldom we see our man crush go all out against them.
Gun grave is an anime based on a video game. Now that this fact is in motion, you can clearly understand the number of amazing action shots this anime has in store for you. Gun grave has superhuman like zombie battles and a very good plot. Filled with betrayal and friendship, this one is for the more serious-minded anime viewers. Gun grave doesn't skip on mafia-like action, I can assure you that.
Imagine a world with no God which leads to no new life form being born and the ones who are dead have no heaven or hell to go to. Sunday without God follows this exact storyline and only gravediggers like kawaii Ai have the power to rest these zombie-like creatures. The story and concept of this anime is enough to attract viewers but throw in a good old loli and now you're gold.
Do not get distracted by the kawaii atmosphere this anime can brew. Our main character Yuki loves her school so much that she absolutely cannot see the zombies outside her school. (Valium) At the end of the day, it's an anime about a few girls trapped inside a school with a pet dog trying to survive a zombie apocalypse. High school, zombies, lolis, bliss.
In Tokkou, horrifying animation meets a good storyline. Based on special forces trying to save the world from demons, zombies and demonic zombies. Tokkou might be the one stop for a true zombie fanatic. Truly an anime with zombies.
Corpse Princess follows the story of a beautiful reanimated Makina Hoshimura. After being brutally murdered alongside her entire family she's brought back as a zombie to exact revenge on her mysterious murderers so that her soul may finally rest. Filled with guns and epic action shots, it seriously adds up to one badass anime. As a millennial, you can understand the anguish of a high school student who is brought back after dying.
The number one spot goes to none other than High School of the Dead. Let me just get this straight, you're in for some "BIG" things with this one. Thick thighs and fan service, oh and also zombies. It's a survival story told by hormones. On a more serious note, if you're looking for some high school humor with zombies, this should be the ultimate pick. Also, watch it with your room locked.
These were our picks on Top 15 Anime with Zombies. Even though this genre is fairly new, it's not hard to find good anime. Do you agree with our list? Comment down below.