Harem school comedy manga Bokutachi wa Benkyou ga Dekinai (We Never Learn) TV anime adaptation is now in the works.This is certainly exciting news for the fans of the manga. The MAL rating for the manga series is pretty high which is great.
Earlier today, the anime's website and Twitter went up with a teaser visual featuring its four main characters: Nariyuki Yuiga, Rizu Ogata, Fumino Furuhashi, and Uruka Takemoto. Yoshiaki Iwasaki, known for his directorial works for Love Hina (2000-2002)is serving as director while Go Zappa is in charge of the series composition. Masakatsu Sasaki is doing the character designes. Also, we have Studio Silver and Arvo Animation co-work on anime production. Additional details such as voice cast and broadcast schedule will be announced on a later date.
Ecchi Anime Senran Kagura 2nd Season Reveals Promo Video, Key Visual
Key Visual
Taishi Tsutsui is the author of the original manga. The series began to appear on Shueisha's Weekly Shonen Jump magazine starting from February 2017. The English edition of the manga will be available from VIZ Media from December 4, 2018. VIZ Media is currently offering a free preview of the first three chapters of the manga. The publisher introduces its story as below:
Official Synopsis
When studious Nariyuki tutors two supergeniuses who are total dunces in their favorite subjects. Inturn,he'll also get a crash course in love!

Nariyuki Yuiga comes from an impoverished family, so he's eager to secure a full scholarship to college when he graduates high school. His principal agrees, with one stipulation—he must tutor the two smartest girls at the school and make sure they get into their target colleges! Rizu is a science genius who wants
to study liberal arts. Fumino is effortlessly good at literature, but math makes her head spin. Nariyuki is stuck between a rock and a hard place, but who can complain about tutoring a couple of cute girls?

Nariyuki is facing the chance of a lifetime if he can just make sure that Fumino and Rizu excel and get into the schools they want to attend. He comes prepared to tutor them, but he isn't prepared for burgeoning high school romance! Sparks begin to fly, no matter how much Nariyuki tries to avoid it—and things get even more complicated when a third girl joins the study group!
Manga tankobon 1st and 7th volume covers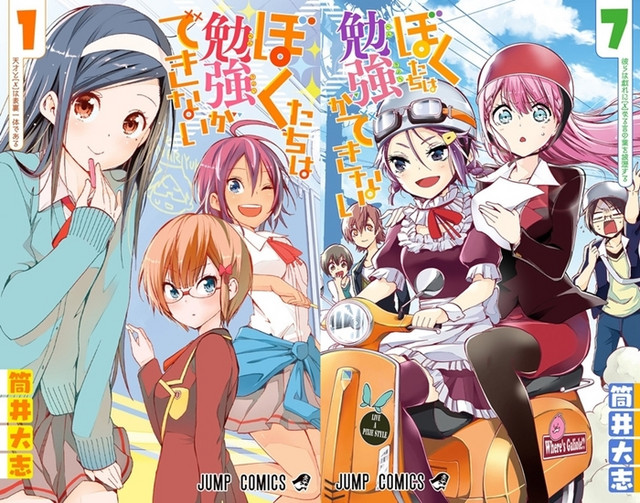 Source: Aniplex press release, Crunchyroll News. ©Taishi Tsutsui/Shueisha, Bokutachi wa Benkyo ga Dekinai Production Committee