Welcome to the anime and manga news roundup 23/09/2018 edition. In this post we will summarise the news posts we have bought out this week and also list down some of the best news of this week. This post will help you stay updated on the happenings in the anime and manga world.
This week we had the key visual and the promo video for Tokyo Ghoul:re 2nd season making a release, so do check it out. The series will start to air on 9th October. We also have Gurazeni Season 2 release date set for October 5th and Goblin Slayer release date and promo video announced so have a look at them. Finally, Fist of the Blue Sky Regenesis Season 2 opening song was revealed earlier this week.
Anime and Manga News Roundup 23/09/2018 Edition
So, here is the list of some of the best anime and manga news from this week.
1. Ulysses: Jeanne d'Arc to Renkin no Kishi will hit Japanese TV on October 7
Upcoming harem anime, Ulysses: Jeanne d'Arc to Renkin no Kishi (Ulysses: Jeanne d'Arc and the Alchemy Knights) has put out a new teaser trailer on its official website. The 84-second promo video features the main voice cast for the series. Also, the theme song Liberation by Mai Fuchigami plays in the PV as the background track.
The story takes place in the 15th century France, during the Hundred Years' War against England. The series reimagined the story of Jeanne d'Arc as a medieval fantasy and revolves around Montmorency, the son of a noble who attends an academy for knights where he studies alchemy and magic. When France falls at Agincourt, he begins to flee as the school is shut down. During his bid to escape, Montmorency meets a miraculous young lady known only as "Jeanne." If you have come to like the trailer and the plot you can check the anime when it premiers on 7th October.
2. Love Is Like a Cocktail Returns for One Last Episode
Episode 14, which happens to be the final episode of the short anime series about the life of a stoic office lady, Love Is Like A Cocktail will stream the episode for three days starting October 6. The episode will feature sake appreciation with Chi-chan warming up in the bath with some sake. The anime itself is very well-loved for how the bartender husband takes care of the office lady. If you have not watched this series do watch it, especially if you love romance or as a way to relax.
3. Ingress will premiere In Japan on October 17
Ingress is originally a mobile game from Niantic that features augmented-reality. The game is decently popular and has got an anime adaptation which is premiering on Fuji TV on October 17. On the very next day the series will be available on Netflix. The sci-fi series hints towards an interesting plot and maybe this anime will be thrilling to watch. The latest trailer hits at what we can expect from the anime. Do check it out.
4. A-1 Pictures' 'Kaguya-sama: War is Love' To Air In January 2019
If you liked the anime Saekano: How to Raise a Boring Girlfriend or Wotakoi: Love is Hard for Otaku then you can defo check this upcoming romantic comedy Kaguya-sama: Love is War anime series.
It follows the story of two elite students in High School who are attracted to each other but feel that it is too awkward to confess their feelings to each other. This view stems from their belief that the person who confesses first loses the power in the relationship. Consequently they put up a front and pretend not to care about each other. Bizarre mind games begin to take the centre stage between them. We can hope for this anime to be very fresh and make an enjoyable watch.
5. Voice of Fox TV anime Releases PV and Premiere Date
A new trailer and the official Japanese broadcast schedule have been published for Voice of Fox (known in Japan as Kitsune no Koe), an upcoming original TV anime about a handsome idol who can't really sing and a "ghost singer" who hides his face behind a fox mask. The trailer highlights the opening theme for the series, "COME: BACK Stage!" by LoveDesire.
The story of Voice of Fox follows Hu Li, a "ghost singer" who hides his face behind a fox mask, and Kong Que, an idol with a handsome face but no talent for singing. The two singers don't particularly get along, but together they challenge their rivals in a bid to claw their way to the pinnacle of the idol world.
Top 13 Crazy Anime Girls – Insane Anime Girls Who Intrigue Us The Most
6. Romance Smut Anime Shūdengo, Capsule Hotel de, Jōshi ni Binetsu Tsutawaru Yoru. Releases PV
Upcoming TV anime Capsule Hotel de, Jōshi ni Binetsu Tsutawaru Yoru. (The Night When Me and My Boss Spent the Night at the Capsule Hotel After the Last Train and He Passed His Fever to Me) manga, by Meg's Shūdengo began streaming a PV for the series on Wednesday. This PV release will act as the prologue to the regular broadcast version of the anime that is to premier on October 7th. The TV anime will air censored and the "complete version" of the anime with "additional explicit scenes" will premiere on ComicFesta's Anime Zone streaming service.
7.  A Certain Magical Index III Anime Releases a New Teaser Trailer
The series will premiere on October 5.
A Certain Magical Index (Toaru Majutsu no Index) is the adaptation of a Light Novel by the author Kazuma Kamachi. The anime tells the story of Kamijo, who is a student of magic in the Academy City. Although, he is the weakest student, he has two things going for him. He has an unexplainable power stored in his right hand – the Imagine Breaker, that negates the powers of others. He also comes across a young nun on the run from a sorcery society who harbours 103,000 volumes of magical knowledge stored in her memory. Kamijo wins her trust and in him she finds a faithful friend and protector. If you want to know what they are going to achieve, surely check this anime out!
8. Naoki Urasawa, the Author of Monster, Pluto, 20th Century Boys Manga is Bringing Out a New Manga Series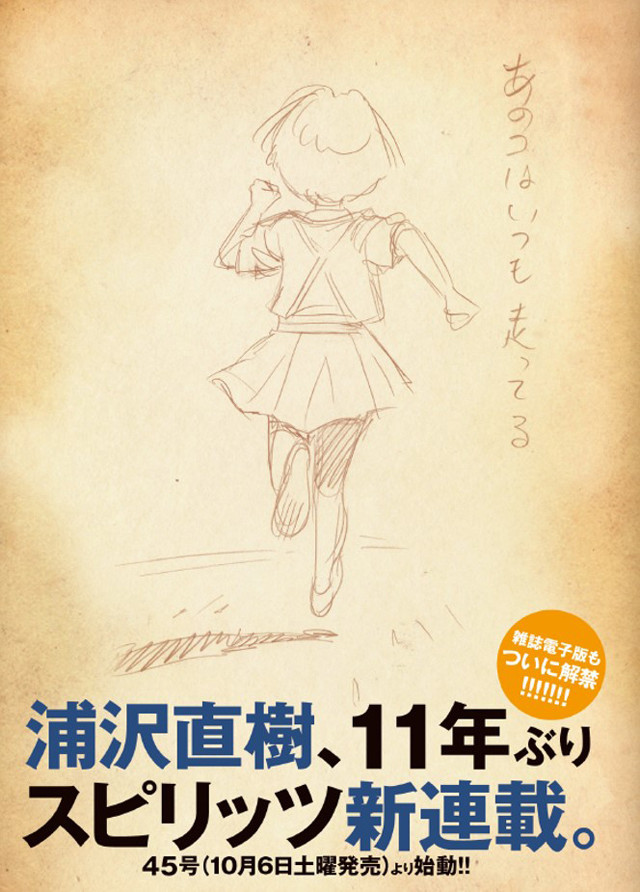 Naoki Urasawa is one amazing author who has brought out amazing manga such as Monster, Pluto, 20th Century Boys and now he is going to start a new series after nearly 11 years. On October 06, 2018 the 45th issue of Shogakukan's Big Comic Spirits will feature the as-yet-untitled series. Not much is currently known aside from the key visual above and the tag-line on the visual which translates to: "That child is always running." So manga lovers let us hope that this is going to be as amazing as the previous works.
9. Girly Air Force TV Anime To Premiere in winter 2019
Kōji Natsumi's Girly Air Force light novel series is getting an anime adaptation and yes, the above key visual is very encouraging. Don't let the cute girls fool you as the series follows the story of mysterious flying creatures known as Zai which make a sudden appearance. In order to face them off, humans seek the help of fighter aircraft called "Daughters." Daughters feature an automatic fighting mechanism called "Anima," shaped exactly like human girls. A manga adaptation of the light novel series will be featured in the Kadokawa's Monthly Shōnen Ace magazine starting on October 26.
10. Seishun Buta Yarou wa Bunny Girl Senpai no Yume wo Minai Announces Anime Movie
【劇場上映決定!!】
青春ブタ野郎シリーズ「青春ブタ野郎はゆめみる少女の夢を見ない」2019年劇場上映決定です!
原作小説第6弾「青春ブタ野郎はゆめみる少女の夢を見ない」第7弾「青春ブタ野郎はハツコイ少女の夢を見ない」を描きます!
キービジュアルも公開!
詳細→https://t.co/ZhkNSfbnhj pic.twitter.com/eBLCFUPKJ5

— アニメ「青春ブタ野郎はバニーガール先輩の夢を見ない」公式 (@aobuta_anime) September 15, 2018
At the recently held advance screening for the upcoming fall anime Seishun Buta Yarou wa Bunny Girl Senpai no Yume wo Minai an announcement said that the series will get a movie in 2019. Fans of the light novel are sure to be very delighted now. We are not sure of how many volumes of the novel the anime series will be adapting but the movie will adapt the 6th and 7th volumes of the light novels series. The anime series will premiere on  October 4th and the studio is CloverWorks.
So, with this we have reached the of this post, do let us know what news has got you excited in the comments section below!